6 Hotel Technology Trends Your Guests Demand in 2022
Technology has become the backbone of the hotel industry in the last decade, whether it's how properties are managed behind the scenes, or guest-facing technologies that improve the quality of sales. As hoteliers, accommodating to the ever-changing technological wants and needs of guests becomes more complex as technology evolves. Here are 6 technology trends that your guests want at their fingertips:
Hotel guests crave convenience, whether it's using a smartphone to order room service or a touchscreen to adjust the indoor climate. Guests of the 21st Century have a strong draw to the ease of digitally customizing and automating their physical world. This is where hoteliers can incorporate voice recognition devices and Bluetooth technology to give guests a hands-free experience. Devices like Amazon Echo and Google Assistant, voice-activated smart thermostats, and smart lights are all viable options for turning a basic guest room into a smart room experience your guests will enjoy. 
While guests enjoy the convenience of smart devices, they are also very concerned with protecting their personal information and data. Especially in a come-and-go setting like a hotel. Hackers are always waiting for the perfect opportunity to steal money, data, and identities. The last thing someone wants to deal with is identity theft while on vacation. Guests' transactions and digital activities should be protected under your roof. This means examining your firewall and internal payment systems to ensure they are protected from hackers and ransomware.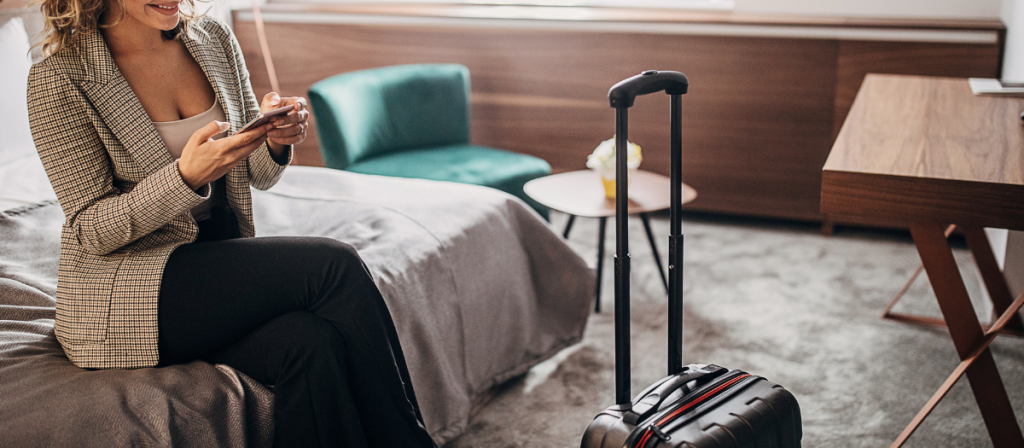 AI in the hospitality industry is still a novelty but will become more of a reality every day. Whether it's a robot delivering room service or digital check-in kiosks, there are seemingly limitless and creative ways to incorporate AI into hotels. One way that several hotels are leaning into AI is through fully-automated virtual concierge services or 24/7 chatbots that address several guest needs including room and turndown services, dinner reservations, booking tourist attractions and entertainment, spa appointments, transportation, and more. The technology may require pricey initial investments, however, the financial rewards of an employee that never sleeps can be vast.
If you haven't already, it's time to start designing your custom hotel casegoods furniture with guests' technological needs in mind. The average guest travels with multiple tech devices and will use them often. They need ample places to charge as they work and play. This is where hoteliers should add strategically placed outlets, data ports, or wireless charging docks directly into furniture like the headboard, nightstand, dresser, desks, and even dining tables. Smart hotels offer guests full connectivity and charging access, whether they're in the lobby or laying in bed. 
➡️ Read More: 4 Tips to Choosing Great Hospitality Furniture
Wellness tourism was a $436 billion market in 2020; world travelers made over 600 million international and domestic trips (Global Wellness Institute). Despite several widespread travel disruptions during the pandemic. Needless to say, people traveled with exercise and other wellness routines in mind. And were attuned to even paying a little extra for this brand of hospitality. To tap into this, hoteliers are looking at health and wellness technology and features. Everything from standing desks to in-room fitness equipment (smart exercise mirrors, exercise bikes, yoga mats, resistance bands, etc.) to smart LED and circadian rhythm lighting features. 
Thanks to smartphones and Bluetooth technology, keyless door entry can quickly and safely get guests into their rooms. No more rummaging through bags or pockets, waiting for red and green lights, or accidental deactivations. Keyless door entry is more convenient, maintains better access control, saves time and money from rekeying, and provides advanced security.
As technology evolves, hotels will need to invest in more guest-friendly functionality supported by said technology. From smart guestrooms to robot concierge services, keyless entry to wellness technology — guests expect access. Here are some trends that will you point in the right direction to meet guests' demands of the future.